Dear John & Suzanne,
We thought you might like to see the beautifully decorated milk churn in situ.  We bought this from you at Brett Gallery www.brettgallery.co.uk last weekend, as a 25th wedding anniversary present to ourselves.  It is now in pride of place in our hallway. 
W
ith all good wishes,
Philip & Sue
Thaxted
Hi Sue,
Just thought you might like to see your painting in situ - I think you'll agree it looks perfect!
I know I said it before, but I really am delighted with it - thank you again so much!!
You'll also be pleased to know that the real swallows are back and busy tidying up the old nest, so hopefully more babies soon!
Best regards
Anne x 
on commissioning a swallows' painting to reproduce their regular arrival at Anne's home.
I could get your painting today. It was worth waiting for it.
I think the painting is more than beautiful, it is fantastic. And I do not say that easy from a painting. It wil hang in the living room.  There are hanging  27 paintings, so yours wil be nr. 28.
Harmen
Wow , it's amazing, so pleased with it and you did it so quick. Thank you so much. I am so excited.
What a talent you have, I shall treasure it.
Wow, wow, wow-I'm absolutely thrilled with both these boxes but I'm just blown away by my beautiful Harris Hawk, it couldn't have been more perfect. You are an amazing artist and capture such wonderful details, thank you so much:
Tracy..
I am interested in your Facebook post regarding the original Kestrel.
I remember seeing the Kestrel on your page when it was work in p

rogress and when finished. It was a wow moment for sure.
I thought then how special it was as a piece, with bird watching and photogr

aphy as two of my hobbies.  I really love the 
stunning composition and perfect timing the photographer captured of one of our most beautiful birds of prey and your incredible, beautiful reproduction of the image.  It's just so captivating of the essence of a Kestrel hovering as it searches for prey.
Is it still available please?
Jamie bought the original in its carefully chosen frame. 
My parcel has a arrived.  The box and slate are both in excellent order and are both absolutely beautiful.  They will be loved and cherished Christmas presents.
Hi Suzanne, 
The box just arrived and it's absolutely stunning!  The lovely photos don't do it justice.  Thank you so much.  I'm sure my Dad is going to love it.  
Just wanted to share my delight and awe with you.  Your work is incredible.
Naomi
- after buying the Bullfinch Box
September 2020
Hi Sue, I'm absolutely thrilled with the painting, I made the right choice.  Thank you so much.  I will definitely pay you a visit to the Gallery, good luck with your new venture.
Julie
September 2020
Just wanted to let you know Mum loved the 80th birthday kingfisher / goldfinch jug when she opened it today.
Thank you again.
Karen xxx
August 2020
Suzanne,I bought it and really love it, I don't know what you were thinking about when you painted but I think of a little one with a quiet trust in God.
Sophie on buying my Redstart.   
July 2020
Thank you so much Sue, the pictures look amazing in our new kitchen - not finished yet but we couldn't wait to put them up!  My sister recently bought a Barn Owl painting from you, one you found after you thought you had sold out of, I think.  She lives in the house on the opposite side of the road from us.  You have two new huge fans!  Thank you once again for the beautiful paintings xx
Anne on buying Matt's Barn Owl and Five Gold Rings limited edition framed prints.
June 2020
Suzanne
I just wanted to write to say I received my wonderful gift of the set of coasters today. They are absolutely beautiful, much too nice to use. In fact even my husband said the same and that maybe we should get a type of box frame to put them in and show off !!  I have already told a friend about your bird art and my gift as they are members of the RSPB so I know they will enjoy a look at your website.  Thank you again Suzanne, you have such a talent and excellent eye for even the tiniest detail.
Mary 
June 2020
Hi Suzanne
Just discovered your wonderful work on Facebook.  Amazing detail. I would like to order a print of one of your owls and would like to see what frame choices I have.
Mandy 
May 2020
Good morning Suzanne
So, I finally received my birthday present yesterday and am absolutely thrilled with it.  You have done a wonderful job, it's beautiful.  The churn is in its place at home.  It is actually my birthday today and I can't keep my eyes off it, wondering if I have missed something!!!  It took me a while to spot the caterpillar!......... Yes, I have now clocked the snails and the hedgehog is just divine!  Thanks ever so....
Rachel
On receipt of a commissioned large hand painted vintage churn.
May 2020
Good morning Suzanne
Just wanted to say thank you so much, Mum's present arrived safely this morning and we are both so pleased with it. Mum was over the moon with her 'happy not your birthday' present. Can't believe how quickly it arrived either! Fantastic service, thank you ?
On receipt of the Long Tailed tits Vintage Jug
January 2020
Oh my giddy Auntie, Sue .......you are swiftly becoming one of my very favourite artists.  You don't need me to tell you that the ways in which you are capable of capturing not just the look......but the very heart and soul of the birds you choose to paint, are truly astonishing.....but I will anyhow!  Well done you.  Sharing, if that's okay?
December 2019
Dear Suzanne
Just to let you know that the slate arrived safe and sound and is exceptional.  Thank you.
Brenda
I would be delighted to include any reviews you may have for my work or indeed any suggestions for future subjects.
Please send your thoughts using "Contact Me" 
November 2019
The wonderful thing about doing craft fairs is that I get to meet wonderful artists ...... just picked up this stunning box from suzanneperryart ....Stunning work!!!
Phyllida
One of my hand painted keepsake boxes was ordered at Bridge Farm Barns Vintage Fayre last week, having sacrificed the purchase of a similar box to a friend!  As requested, I painted my waxwings design and it seems to have gone down well this morning.
October 2019
Good morning, I'm sure you've been told a hundred times but you're very talented and extremely lucky to have been gifted such a talent.  It seems both me and the girls at Sentry share the same view in that we think Jo would love the Nuthatches, which is slightly ironic as I have been trying very hard to get Jo to recognise the Nuthatch call! As yet it's still a work in progress ha ha . So all that's needed now is to confirm the picture is framed and arrange to collect from you and pay. One of the girls from the office would be able to pick it from wherever and as they hold the pennies it's an obvious solution, hope this is ok with you.
Kevin
Good evening Suzanne
"Sunrise" arrived yesterday morning!!  I am very pleased with the print, and thank you for the cards.  Thanks very much.
Best regards Dave
September 2019
Hi Sue
I popped home for lunch and what a surprise to see my beautiful swifts! The slates are much bigger than I anticipated and will make a wonderful impact.   Totally in love with the blackbird too.  I would love a wren and a goldfinch, I will contcat you as soon as I have finsihed decorating.
Many thanks Sue xx
August 2019
I just wanted to tell you that I am delighted with the "Summertime, Swallows" painting I bought from you at the 2019 Rutland Birdfair. It now has reached its new home in France and will brighten up my days.The details on the birds'plumage are absolutely fantastic and the way you framed it also enhance the painting. Thank you very much. 
Simone, France
July 2019
The jug arrived today, Sue!  We're so pleased with it, looks fantastic.  You're very talented, thank you!
Claire
June 2019
Dear Sue
Thank you for painting the Farmhouse Churn so beautifully, it will have pride of place on the new patioo!
Love Sal and Mark
May 2019
Dear Suzanne
I just wanted to say that I am absolutely delighted with your " Earful of Waxwings " picture.  Your artistic talent is an amazing gift.  Thank you, I love it!  Looking fotrward to seeing your display at the Hadleigh Show.
Cara
April 2019
Hi Sue ...... The slate arrived today ... delighted with it.  Unofrtunately my wife likes it so much she's had be put it on the kitchen wall rather than in my birdroom haha.  You have a talent! ... Once again, many thanks
Dean
April 2019 
Hello Suzanne, I have visited Needham Market Exhibition this morning and had a feeling that you would be there again, I mean your artwork. Ohhh, they are so beautiful.  I bought another two artworks for my collection.  I love the birds so much, I can't wait to pick them up on Monday.
Alina
March 2019
Suzanne, he looks absolutely terrific.  You really are blessed with an excellent talent.
David
On purchasing Aspen, my latest Merlin.
March 2019 
......my favourite artist in relation to birds, amazing talent.  I recommned viewing her website www.suzanneperryart.com
Posted on Facebook by Lynne after buying two of my originals.
January 2019
Hi Sue
Your new sketch is fine thanks, I can't wait to see the final painting!.  Mum and Dad loved Drummer Boy, my Mum goes to art classes and is very envious of your talent.  My sister was really chuffed with her Great Tit slate, she wasn't expecting it, which made it better.
Helen 
This came on the back of a commission request and referred to the paintings and slate bought in November.
December 2018
 Hi Sue
So delighted with my churn, I posted it on my Gardeners' Question Time Group. I wanted to tell you that everyone loved the churn and have asked for your website details, which I have now sent to them.  I hope that is okay?  I have also been asked to pass on all the wonderful compliments of your work to you.  
Best wishes
Rob
After buying one of my vintage churns 
November 2018
Hello Suzanne
You may be pleased to hear that your Wheatear Reflection has found a happy home in Lavenham.  It's absolutely delightful.  I do hope my daughter Jane, also an artist, will forgive me!.  
Very best wishes.
David 
November 2018
Do you know what?  I am most impressed with your wildlife artistic skills.  I have a passion for nature paintings especially by G F Tunniecliffe, your detail is on a par with the great man himself in some of your paintings.  I think you have surpassed him.  You are so lucky to have this artistic talent.  Thank you so much for sharing your work.
John
Comment on the Facebook Page of British Bird Lovers Group when he saw Standing Proud ( Robin ).
November 2018
We're definitely, positively certain about both paintings.  Funnily enough, I e-mailed my Mum yesterday and she's just written back saying how lovely Pippin is!    They'll love the Great Spotted Woodpecker (Little Drummer Boy) then.  I have seen pictures of your work on either All Things Bird Watching or British Facebook Birders. In fact that's when I saw Pippin a couple of months ago and loved him.  I am a really keen birder and Nuthatches are second only to Short Eared Owls for me, in terms of the most amazing birds to see.   I'd imagine I will be commisssioning something from you in the future - one of your triples perhaps!  What I like most about your pictures is that the foliage/background is just as good as the birds.
Helen
After buying two of my originals in one weekend! 
October 2018
Our beautiful wedding barrels are out to bring happiness on this moody day.  Suzanne Perry Art has done an amazing job on the old barrels I gave her.  Looking gorgeous, adorned with our home grown pumpkins and dahlias.
Lauren
This was the most unusual commission, two barrels were painted across thier middle section for Lauren's wedding in July 2018.  There were two themes, garden birds and river birds, and the barrels stood pride of place at the entrance to the Reception Marquee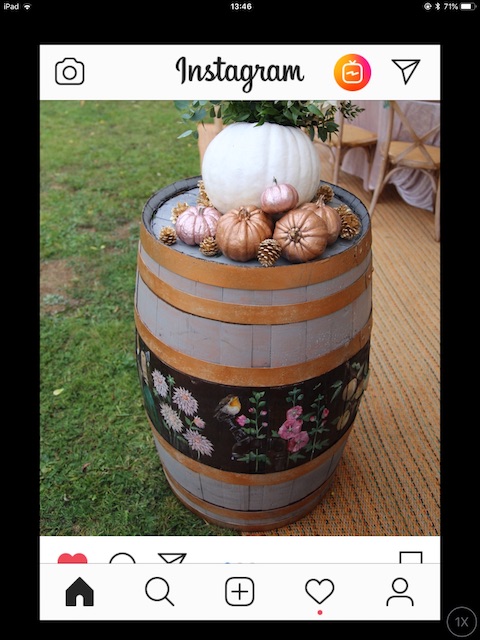 September 2018
Hi Sue
Just to let you know that I have received the picture, it's just as beautiful as displayed on your website.  I am delighted with it.  Thank you so much for the cards you put in, they too are lovely.  My husband loves it as well, a nice addition to our new home.
Bernadette
Referring to Gardener's Friends
August 2018 
Hi Sue
The churn arrived today, it's absolutely beautiful, I love it so much, the cards you put in are stunning as well.  I really love your work you are so talented, thank you so very much, I'm so pleased.  If I send you a picture of a starling would it be possible to paint him on a card with a Christmas hat on, as I would love to have a few with him on if possible?
Shelley
Referring to the Starlings' vintage milk churn.
August 2018
Dear Sue
Artwork arrived today, I am so pleased with it, thank you, also the cards.
Best wishes
Linda
After asking me to send a mounted print of " Willow ", a Tawny Owl.
August 2018
The painting arrived today, it's beautiful.  Thanks for the extras!
Louise
After asking me to send a mounted print of " Willow ", a Tawny Owl.
August 2018 
My two framed and your other wall mounted pictures will be cherished.  Indeed I cannot stop looking at them.  I have two others on adjacent walls - the " Quartet " looks great!
Mike and Suzanne Smith 
 June 2018
Hi Suzanne – My wife and I visited the Brett Gallery at Monks Eleigh yesterday (27th June) after the half day experience of Falconry at the same venue. To say I was blown-away by your beautiful bird paintings would be no understatement. We purchased 8 paintings (2 originals, 6 prints) also a kingfisher keepsake box. I would be very interested in more of your paintings after a visit to your website.  Example, love Hector the owl, would love that one as I adore high-quality owl paintings. Your style and skill immediately grabbed my attention and hopefully will give me years of pleasure. Would, or do you paint 'special' orders for originals? I would love a pair of snowy owls similar – but clearly not identical – to the picture I have attached to a separate email.......a pair of snowys sitting on a low dead tree stumps with a backdrop of a an eerie wood lit up in twilight by a beautiful full moon. Although I like the picture I have, I would love a similar item in your highly detailed style as an original. The snowy is such a beautiful bird and deserves the 'Perry' hand and touch. I would need a landscape format with a picture size of around 24 x 18 (excluding frame). The pictures are simply wonderful and please keep up your brilliant work.  It would be a privilege to meet you and thank you in person for such delightful art pictures of Britain's lovely birds.
Many thanks and best regards Mike and Suzanne Smith (and keep up the excellent work).
June 2018
Some years ago I was very ill in an isolation hospital.  I awoke one night to see a beautiful owl on the window ledge (window was open) looking right at me.  I felt safe, whereas before his presence I felt fear about the situation I was in.  Since then I have had an affinity with owls.  I see them as my protectors and I particularly adore their soulful eyes.  Your painting ( Tawny Owl, Hector ) is magical and looks virtually identical to my protector that night, thank you for your artistry, truly magical.
From a contributor to UK Garden Wildlife on Facebook
June 2018
Hi Sue
Love the Yellowhammer, thank you, it's one of my favourites.
Kevin
From someone who is now building up quite a collection!  
May 2018
Hi Suzanne
Thank you for your prompt framing of the print ( see below ), I am very pleased with the final result and must now get round to hanging it alongside the kingfisher.
When we were in Suffolk in March 2017 we called at Brett Gallery, ( part of Corncraft ) and were taken by your pictures on display. My sister in law purchased for my birthday the Kingfisher on Bullrushes print which we now have framed and hanging in our lounge. We were in Suffolk again last week and called again at Brett Gallery and at the time I was unable to decide on the purchase of another of your prints and intended to call back again before returning to Lincolnshire, unfortunately we were unable to get back there during opening times. I am very taken by the Earful of Waxwings print and would be obliged if you would list me with details of the costs, including postage of obtaining a print. Also if I decided to obtain a framed print whether there would be a choice of frames available as I would like to match this one with the one previously acquired.
May 2018
The Long Eared Owl now resides in my living room, such exquisite work of art.
Gary 
May 2018
"Crop Full of Berries", Sue loves it as much as I do.  It now hangs in pride of place over the mantle piece.
Matt 
April 2018
"Settling In" is amazing, thank you so much.  Dick loved it!  Just deciding where to hang it now.
Lucy
December 2017
My sister was thrilled with the Florence Box, thank you so much.  You're a very clever lady.
Lucy
November 2017
Dear Sue
A special "Thank you" for a super job.  I was also very pleased with the way your paintings are framed. They really set the pictures off well...... which is very important when you have spent time producing a lovely painting. I will let you know how our friend Alli reacts to it!  I am especially pleased to have a copy as I have always wanted to own one of your pictures!  Thank you to your partner as well, for printing my one copy.
With kind regards
Will
As you will see from the notes in my Birds of Prey Gallery, Alli was equally delighted.
October 2017
Suzanne painted the Wren Elizabeth box for my granddaughter who was christened today.  I can't thank Suzanne enough for the beautiful box, she has seemed like a personal friend.  My granddaughter couldn't have had a nicer box, it's totally stunning, Suzanne is an amazing painter.  Thank you so much, I will be back for more.  
Lotsa love and best wishes from Dina
October 2017
Absolutely love the Teal picture.  A special thank you for the cards too, they are delightful.
Best regards Sarah
October 2017
I would like to purchase a mounted print of "Lazing on a sunny afternoon" Teal.
It is for an anniversary gift for my boyfriend's parents so I would need it as soon as possible as I have left everything to the last minute.  We already own one of your kingfisher prints that I purchased at Suffolk Show.  Do contact me if you are doing any new prints on the kingfishers.  I would like one to go with the Twilight one that we have, but possibly facing the other way.
Best regards Sarah.
September 2017
Suzanne has painted a box for my granddaughter, Wren.  The box is beautiful, I can't thank Suzanne enough, her work is outstanding and as a person she is amazing to deal with,  she has kept me updated all the way through.  Thank you so much Suzanne, I'll be back for more.
Kind regards Geraldine
August 2017
Just thought I would let you know I have recenty bought your Little Owl painting for my husband's birthday today. He is really thrilled with it. Thought you would like to know it has come back home as we live here in Elmsett.                        
Regards Sue
July 2017
Thanks for the Peregrine Falcon, it is awesome!
Kevin
July 2017
Emma loved her hand painted box.  Thank you so much.
Kirsty 
December 2016
Painting of robins and old kettle.
"Back in October we bought an original Suzanne Perry painting of two robins on a wall from the Brett Gallery at Bridge Farm Barns. We were so pleased that we contacted Suzanne direct and commissioned a second painting for my wife's Christmas present. Suzanne is very easy to talk to and we discussed what we would like featured in the second painting. A few days later an initial sketch was emailed for approval. We were very happy with the sketch and couldn't wait to see the finished painting. The finished masterpiece was ready for collection before Christmas and is now proudly on display with the other painting.
If you like Suzanne's style of painting and have something particular in mind I would definitely recommend talking to her about a commission. I'm sure you will not be disappointed, we were not."
Colin & Judy.
September 2016
The beautiful French Milk Churn.
I met this lovely lady artist called Suzanne Perry at my place of work, The Brett Gallery, Monks Eleigh in Suffolk.
She had been displaying some of her works in our Gallery since it opened.  Her art is beautiful. One day I noticed, amongst other gems displayed outside "Sarah's Attic", shop a French milk churn.  I then had an idea!  I wondered if it would be possible for Suzanne to paint a beautiful bird scene on it for me. I asked if she would consider it, she seemed interested and said it would be a challenge.  
A few weeks later, and to my surprise, she presented me with this beautiful churn, displayed with her artwork.  I am now the proud owner of a stunning French milk churn and it holds proud of place  in my lounge, too good to be palced on the doorstep.  Thank you Suzanne x 
Mary
September 2016
My wife and I recently visited Brett Gallery in Suffolk and purchased two prints of yours, the Barn Owl and the Kingfisher, we also purchased an Original of yours, the Hobby "On The Rocks". Please as punch with all of them but obviously the Original in particular.
Some other pictures have been relegated to the stairs and yours hang proudly in our lounge.
Terry and Lesley
July 2016
Dear Suzanne
Thank you for the lovely "sparrow keepsake box"
Penny
May 2016
Hi Suzanne 
I have just have to tell you how much pleasure your lovely box "The Boys are back in Town" is giving me.  It is a true work of art and so very original and special.  Thank you for creating it.  With best wishes
Wendy
Wendy bought one of my cherish boxes from the Hadleigh Show.  They turned out to be rather popular, I am busy painting more following orders!
April 2016
Hi Suzanne
We received "Resting in the Reeds" this morning in good condition.  We found the painting realistic and would recommend your work to others.  Once again, thank you very much.
Nancy B
Nancy commissioned some Bearded Tits after buying one of my other paintings at Brett Gallery, Monks Eleigh.  I chose their traditional setting of reed beds. 
 March 2016
I recently purchased from you a box with the Puffins painted on it and the picture of the "The Watchful Owl-Tawny Owl" both of which I am very pleased with.  The box was excellent with the detailed painting of the Puffins.  The detail and the posture of the Tawny Owl in the painting was spot on.  You certainly know how to correctly capture the owl in a painting which is not easy to do and is the reason I purchased this picture.  I admire your skill as an artist in producing detailed and beautiful paintings of birds.
John B.
November 2015  
Hi Suzanne
Love the painting, reminds me of Terence Bond's work & they don't get better than that!
Geoff commisioned  one of the three bird collections after seeing my original Garden Bird Collection at the Sudbury Art Exhibition 2015.  He chose three of his favourite birds, the wren, nuthatch and lapwing.  The painting was aptly named "Geoff's Choice"
October 2015
 Dear Suzanne
Thank you so much for re-framing your gorgeous paintings for us.  We absolutely love them and will treasure them always. They look great in our living room, the detail is fantastic.  You are so talented.  Thanks again. 
Fran and Peter
Three originals ( Barn Owl, Merlin and Kingfisher ) were bought from Brett Gallery, Monks Eleigh with the request to try and tone in matching frames.
October 2015
Hi Sue, just on holiday and browsing your website!  Just wanted to say that your keepsake boxes are AMAZING!  I especially like the one which says Kate on it, so clever and unique!  My husband says they are far too cheap!!  Your web site is very impressive, the first time I have sat down and browsed properly rather than just a quick look.
Sarah B
September 2015 
Hi Suzanne, I would love to buy one of your cherish boxes.  I particularly like the sparrows box.   
I was looking at Highcliff's website. The Brantham Vets is the one I use. I was reading the vet news and your name was on there. I then followed the link to your website. The pictures look fantastic as well.  I am now so pleased with my box that I would like to order two more for Christmas presents. The way you have done the one I have is lovely, so I will keep to the same design please.
Deborah S
August 2015
Hi Sue, I saw your painting on the web site. I have been trying to decide what to give my daughter-in-law for her birthday later this month.  She's been appointed 'bird monitor' at their house as she enjoys feeding and watching them when she workds from home!
As a keen bridwatcher myself, I recognised all the lovely characters that you paint.  After visting your studio, as you know, I bought the sparrows ( one of my own favourites ) as her present and she was thrilled with it.
Margaret N
August 2015
Hello Suzanne, I saw details of your website in the Highcliff Vet's Newsletter. My wife has a keen interest in birds and as I always struggle to find her good presents for her birthday and Christmas,
I thought I would see if you had any Kingfisher (her favourite bird) designs in your collection.
I couldn't see one ( since added incidentally, Suzanne Perry ) but I did notice the Keepsake boxes and as I do a bit of pyrography I thought I might be able to get one of those and pyrograph her name onto it to add a personal touch............ 
I am now thinking of just putting my wife's name Kate on the box to keep it clean and I note from the notes on the website that you always do the Bullrushes differently each time. Looking at the design on the web, I can almost see a K and an A in the Bullrushes already, so I am wondering if they could be painted to spell out Kate in a subtle manner?........
Thank you, your sketch design looks fantastic.  I don't think I can wait until Christmas!..............
My wife loved her box! ( I gave it to her early, I couldn't wait! )............
Ian W